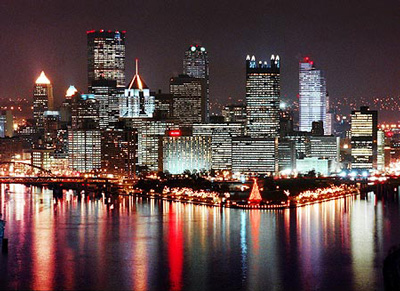 The Ireland Institute of Pittsburgh is pleased to offer the PittsburghJ-1 Trainee Visa.
Come and Train anywhere in the US – please consider Pittsburgh!
The program is open to an applicant who:
– has a degree or professional certificate from a foreign post-secondary academic institution and at least one year of prior related work experience in his or her occupational field outside the United States;
or
–has five years of work experience outside the United States in the occupational field in which they are seeking training.
Training Program: The primary component of the Exchange Visitor Program will be a paid training program in the degree or degree and experience- related industry. Participants will undertake an eighteen month training experience by securing a training program with a high-performance, successful US business or organization. Under the guidance of a mentor in the workplace, participants will gain valuable, hands-on experience and a new understanding for their field of interest. Each participant's respective employer will determine the rate of compensation. A training plan will be created in advance of the visa issuance. This plan will serve as a blueprint for the training program and will show a progression through the organization.
The IIP is approved for the following 5 categories of Training Program:
Arts & Culture
Education, Social Sciences, Library Science, Counseling and Social Services
Hospitality & Tourism
Management, Business, Commerce, and Finance
The Sciences, Engineering, Architecture, Mathematics and Industrial Occupations
Participants don't have to come to Pittsburgh on their training program – but if they do, the Ireland Institute of Pittsburgh will provide basic assistance to them in accessing housing as well as providing other social and support services to them.
Pittsburgh is within 500 miles of half the population in the U.S., and has an easily accessible international airport, within 90 minutes flying time from 20 U.S. states and Canada. Many destinations are within a day's driving distance: New York City, Washington, D.C., the Jersey shore, Gettysburg, Philadelphia, and Chicago, as well as many points of interest in Western Pennsylvania. Thus, Pittsburgh is a great spot to start a regional or national exploration of the United States.
Pittsburgh offers many recreational opportunities, such as hiking, biking, boating, camping, an amusement park, shopping centers, movie theaters, three national sports teams, and a thriving art scene.
Come spend 18months improving your employment prospects, gaining new skills, strengthening your personal development and living in America's most liveable city!
Note: You can go to any American city – but we invite you to ours!
J1 Trainee Program Information Pack 2022
Contact Rob Tierney at +001 412-394-3900 or rtierney@iiofpitt.org for more information or to apply!